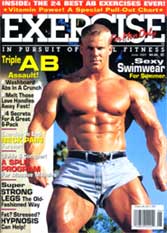 (click to enlarge)
Check out Scott on the cover
of the June 2001 Edition of
"Exercise For Men Only!"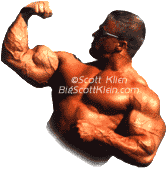 You think you know me? Don't bet on it! Hard, sweaty, pumped and sassy!
My new workout videos show you how I do it. Get a chance to watch me pumping iron at my gym and then kicking back later in my home. "In Contention" and "Championship Strength" not only can help you get a taste of what I go through everyday, but also how I relax those burning muscles when I'm done. These videos are for the serious bodybuilding enthusiast and fanatical muscle fan. You've asked for it. Now you got it. Get your own Scott Klein video. These performance videos are available for immediate delivery.